This processor is one of the most famous one in guitar racks and old studios. It was introduced in 1985 and quickly became successful, it was relatively cheap, and has some very interesting effects algorithms. One of them is the famous 'Pitch Change C' algorithm, used by many legendary session guitarists in that era, including Michael Landau (at least, he used this on his milestone 'Tales From The Bulge' album.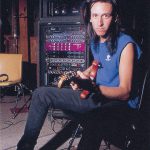 So i wanted to hear this unit with my own ears and bought a broken one from a local auction site.
I was lucky, it was suffered from the usual capacitor problems. The caps are more than 30 years old now and they dried up, you have to change those old caps in many older gears too.
I decided to replace the caps found in the power supply section (you must use 105 Celsius grade and LOW-ESR caps), and every caps in the internal audio signal path (change to an audio-grade Nichicon MUSE caps). Apart from that, the only problem was the contact errors at the input / output level switches. You have to de-solder and disassembly the switches to properly clean the contacts.
Unfortunately, to access the backside switches, you have to disassemble and pull out the mainboard from the rack-frame.
Maybe the replace of Input pot is also necessary, but in my case, that was in good state.